We are equipped to handle junk removal situations of all sizes.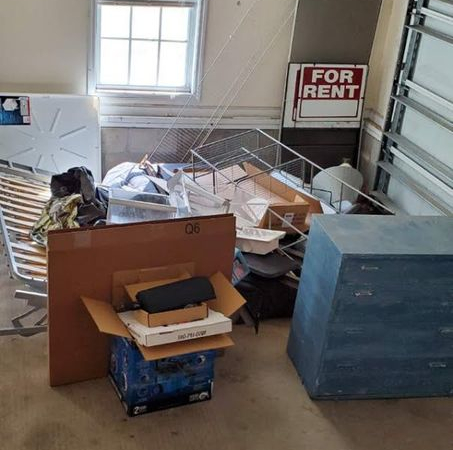 "One man's junk is another man's treasure" is a phase that most people are familiar with. However, what happens when you have a lot of treasures that have become junk and you are yearning for a neat and tidy environment again? Easy—just call us at Junk Busters! No need to stress over that broken appliance, worn-out mattress, stained and dirty sofa, or table with a broken leg. Whatever junk you need hauled out of your Sneads Ferry, North Carolina home or business, we have you covered.
It doesn't matter if you have just one or two things or an attic full. We do the work so you can sit back and relax. Just point out what you want gone, and like magic, it will be disappear. We work with cleaning out attics and garages, self-storage facilities, or rental properties with a vacated unit. We can also remove what didn't sell in an estate sale, perform rubbish removal after a renovation project, and clean up yard debris after severe weather. These are just a few of the junk removal situations that we can assist you with.
Our mission is to provide the highest-quality junk removal services at affordable prices. If you are looking around and feeling overwhelmed by a project you can't seem to get to, don't hesitate to reach out to us to schedule an appointment. We'll provide you with a free estimate and answer any questions that you might have about our junk removal process.
FAQs About Our Junk Removal Services
Our team at Junk Busters specializes in junk removal, and we want to help you get rid of the any junk currently cluttering up your property. If you have never used junk removal services before, it's understandable to have questions, and our team wants to give you the answers you are looking for. Below, you can find answers to some of our most frequently asked questions—if your question is not on this list, don't hesitate to give us a call.
How do you calculate your prices?
We base our prices for junk removal on how much stuff we need to take, and on how far we need to take it. When you call us to request our services, we'll ask about the amount of junk you need us to remove, and we'll ask for the address of your property. Then, we'll make our calculations and give you an estimate.
What kinds of stuff do you remove?
Our team uses a pretty broad definition of "junk." We'll take anything other than hazardous materials—in other words, we will not take things like asbestos, but furniture, appliances, construction waste, and just about everything else is okay.
Do you offer other services?
Yes. In addition to junk removal, our team also offers a variety of maintenance services. For example, we can
clean your gutters
for you, as well as raking and bagging your leaves, trimming your bushes, and generally cleaning up your yard. To learn more about our range of services, just give us a call.
---
At Junk Busters, we offer junk removal services in Jacksonville, Swansboro, Sneads Ferry, Topsail, Surf City, Holly Ridge, Richlands, New Bern, Kinston, Hubert, Camp Lejeune, Maple Hill, Emerald Isle, Wilmington, and Hampstead, North Carolina.
Similar Services We Offer: